SewellArts is the business name for artist/designer Linda Stanley Sewell; a fashion designer and illustrator, author and teacher, skater, dancer, and lover of all things sparkly.
She spends her time bringing fantasy to life as a designer of custom costumes for performers, brides, and pageant contestants. Her studio is testament to the wide variety of creative pursuits in which she excels;
Apparel design
Jewelry & accessory design (including lampworked beads)
Millinery & hair accessories
Book making & paper crafting
Lettering & calligraphy
Illustration, graphic arts, & web design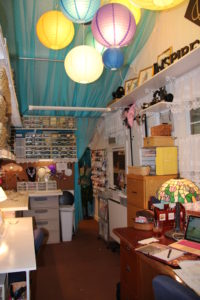 Inspiring and supporting creativity is her mission. Current projects involve writing, designing, and publishing how-to books to help others learn some of the techniques Linda has developed over her long career.
Linda is also busy with her family's start-up ranch in North Central Texas, and has just finished setting up her new studio on the second floor of the family "barndominium." You are invited to check out her blog, Wandering Wheels Adventures, to follow the adventures of a city girl learning to commune with nature on a hobby farm in Texas.